Recent research indicates that large growth of the PRP markets in Asia and Europe will mean a large boost in the value of the global through much of the next decade.
Sales of platelet-rich plasma remain strong in North America, which accounted for more than half of worldwide sales for the enriched blood plasma in 2013. But competition from other regions is gaining, particularly in the Asia Pacific.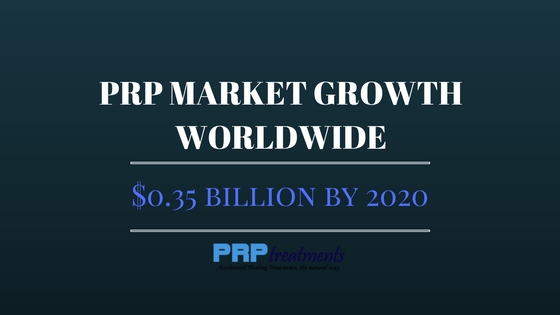 Asia Pacific PRP Usage Growing Rapidly
That part of the world has become the fastest growing market for platelet-rich plasma thanks to greater awareness of various products and treatment devices. Demand has been particularly strong for leukocyte-rich PRP, also called L-PRP, which is expected to see the largest growth among all PRP types over the next few years.
Elsewhere around the globe — the European PRP market is expected to see compound annual growth of 6.6 percent from 2016 to 2014, according to a new report by Research and Markets.
Medical Device Companies Profiled
The eight-year forecasting report includes summaries of PRP-related therapies and defining various types. It also contains an overview of the European market and an examination of important trends and opportunities coming in the next several years.
Also included in the report are researched profiles of key medical device companies, including Johnson and Johnson Ltd., Stryker Corp., Terumo Corp., Zimmer Biomet, Glofinn Oy, Regan Labs S.A, and Medira Ltd.
Orthopedic Surgeries Account for Increase in Demand
As of 2013, another segment called P-PRP, short for pure platelet-rich plasma, accounted for 60 percent of the total market.
A large portion of the growing demand for the use of PRP in orthopedic surgeries, is the result of more cases of orthopedic diseases and sports-related injuries. New devices hitting the market following regulatory approval and growing demand for cosmetic surgeries have fueled even more growth. Now analysts are worried that high prices will cause a slowdown in any future growth of produce and device sales.
Platelet-rich plasma is categorized into three categories based on its origins. It can be either autologus, allogenic or homologus. The autologus category made up the largest portion of the market in 2013, but allogenic PRP is expected to see the highest demand in the near future.
PRP Value to $.35 Billion in 2020
Between 2014 and 2020, the global PRP market is expected to see a compound annual growth rate of 11.9 percent. In terms of actual dollars, that means the market could go from a value of just $0.16 billion in 2013 to $0.35 billion in 2020.