Major League Baseball saw three pitchers recently choose PRP for their injury. Pitchers, of course continue to have rising injury concerns, but one of the fastest growing ways to get the athlete back on to the field.
Earlier this month, we heard about Los Angeles Angels pitcher Andrew Heaney chose PRP instead of surgery. Heaney is still hoping to return to action, which would be quicker than most pitchers with the same injury.
Now, we have a trio of pitchers that all have elected to turn to PRP. Here is a look at the three pitchers that are the latest to join the PRP world.
Phillies youngster Joins the List
Many of the best sports stars in the country have turned to Dr. James Andrews. He has seen some of the best pitchers in the world, and also stars in other sports, such as the NBA and NFL. Now, Aaron Nola of the Philadelphia Phillies is among that list.
Nola, unfortunately has seen his 2016 season come to an end. But, instead of going under the knife, his "low grade" sprain has been prescribed with PRP treatment. The hope for Nola is a shorter recovery time, and lower risk of reinjury.
The New England Journal of Medicine talks about PRP treatment as injecting platelet-rich plasma injections, which focus on ligament damage, and do help by enhancing collagen gene expression. While not completely taking Nola out of the woods, it does appear that he will be able to come back quicker than others by using PRP.
Mets' Wheeler Out for Season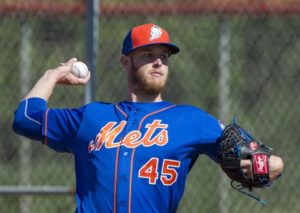 Recently, some new information was released on the status of Zack Wheeler, youngster for the New York Mets. The status remains in tack that Wheeler will miss the rest of the 2016 season, but his status for 2017 looks more clear.
Wheeler took a visit to Dr. James Andrews about his discomfort in his right elbow, and nothing earth shattering came from the visit. Andrews advised his client PRP, which should allow Wheeler to come back quicker than having surgery.
Wheeler has thrown over 285 innings in his career, and has a 3.50 earned run average. Unfortunately, for Wheeler, he has yet to throw a big league inning since 2014, but with the recent PRP prescription, 2017 seems likely.
Colin Rea Avoids Tommy John Surgery
Pitchers all over the country would love to avoid Tommy John Surgery. Colin Rea, who is with the San Diego Padres will be able to do just that. Instead, Rea will elect platelet-rich plasma treatment following his consultation with Dr. James Andrews.
Rea is now scheduled to sit for three to four weeks, before starting a throwing programs. Garrett Richards of the Angels has seen the effects of PRP, and appears to be heading back to action soon.
Remember, Rea was the pitcher that was traded from the Padres to the Marlins, only to be shipped back to San Diego following an injury in his first start. With the Padres out of the race, we will not see Rea this year, but he should be good to go for February 2017.
PRP Continuing to Boom
As evidenced above, PRP continues to dominate the headlines of the sports world. If Dr. James Andrews is continuing to send his clients there, it will continue to grow and expand. Not just in Major League Baseball, but throughout the world of sports.
It will be interesting to see the status of these three pitchers. All three of these pitchers have a high ceiling for their career, and will want to be back on the mound soon. If history repeats itself, these three pitchers will come back stronger than ever, and give their team a chance to win, and of course, their own self a chance to get paid by their team.
Click here to read about other professional athletes that have had PRP therapy.